Presented by the Southwest Region
Chairs  Becky Drnas & Nena James



The Quilt Wyoming 2020 Committee was officially notified this morning that WWCC will not host our event this summer.  Therefore, Quilt Wyoming 2020 is cancelled.  The committee is grateful to the 106 members who already registered.  Their checks will be returned this week.
We are heartbroken that this has happened.  The committee has worked very hard to put on a great event and we were excited to welcome everyone to Rock Springs this summer.  The QW2020 Committee will be working with the QW2021 Committee to combine our events at one location next summer.  Therefore, the Opportunity Quilt will continue to be circulated and the drawing for it will be held during QW2021.  We also hope that those of you who bought challenge packets will continue to work on your challenge quilts as they will also be displayed next summer.
There is much to be decided to coordinate next year's event and WSQG members will be notified as plans are finalized.  We look forward to a great 2021 Quilt Wyoming as the Southwest Region and the Northwest Region join forces to make it the best event ever!


Nena James
Quilt Wyoming 2020 Committee Chair
I
Featured Teachers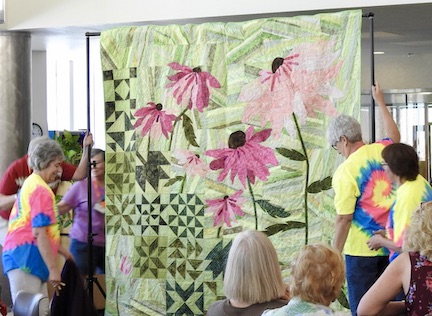 Flower Power" 84″x84″ is an original design by Nancy Vase. It was pieced by Nancy Vase and many other quilters in the Southwest Region. It was quilted by Nancy Vase. It combines modern and traditional piecing, together with artistic appliqué in keeping with the Quilt Wyoming 2020 theme.
Inspiration for the opportunity quilt came from Cutting-Garden Quilts by Melinda Bula and Das Blumen by Fourth & Sixth Designs.
Tickets are $1.00 each or 6 for $5.00
Contact Jeanne Allen to display the quilt at your quilt event or store. jeanalen52@q.com (307) 362-8733
Drawing for Flower Power, the 2020 Opportunity Quilt will be held at the Annual Meeting in 2021.
Schedule: