Presented by the Southwest Region
Chairs  Becky Drnas & Nena James

If it becomes necessary to postpone Quilt Wyoming 2020
due to the COVID-19 Virus we will let members know right away.  
We want everyone to stay healthy.
Featured Teachers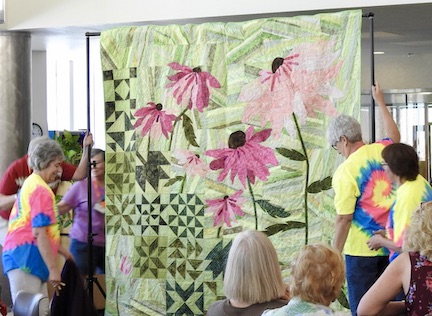 Flower Power" 84″x84″ is an original design by Nancy Vase. It was pieced by Nancy Vase and many other quilters in the Southwest Region. It was quilted by Nancy Vase. It combines modern and traditional piecing, together with artistic appliqué in keeping with the Quilt Wyoming 2020 theme.
Inspiration for the opportunity quilt came from Cutting-Garden Quilts by Melinda Bula and Das Blumen by Fourth & Sixth Designs.
Tickets are $1.00 each or 6 for $5.00
Contact Jeanne Allen to display the quilt at your quilt event or store. jeanalen52@q.com (307) 362-8733
Drawing for Flower Power, the 2020 Opportunity Quilt will be held at the Annual Meeting on June 28, 2020.
Schedule:
March 1-31, 2020 Annual Johnson County Library Quilt Show
Buffalo, WY
May 29-30, 2020 Quilting on the Green
Green River, WY
June 28, 2020 Quilt Wyoming 2020 "Flower Power"
Quilt Ticket Drawing
Rock Springs, WY